How do Underwater Epoxies Work?
The coating industry is littered with products that don't quite live up to their marketing claims and, being faced with the harshest of environments, the field of underwater epoxies throws up more examples than most.
Having seen regular failures over the years, we thought we'd put together a few tips to help you get better results with your underwater epoxy projects.
Firstly, we've compiled a thorough checklist of properties you can use to determine the quality of an underwater epoxy, and then followed up with a discussion on underwater epoxy application to help you understand how these products can be used more effectively.
What does an Underwater Epoxy Look Like?
With nearly 20 years of successful work in the hands of professional divers, our underwater epoxy range is a proven leader in the toughest of coating fields.
Our track record in these conditions has been built around a formulating philosophy that made sure our products could meet every challenge. With this in mind, we believe an underwater epoxy must be:
1. Unable to mix with water (hydrophobic)
The inability to mix with water is perhaps the most basic (and obvious) of all underwater coating needs. All underwater epoxies will have a hydrophobic base resin, however some may contain water-soluble additives that could compromise performance. In our view, every raw material that goes into an underwater epoxy needs to be completely impervious to water for long-term success.
2. Easily applied underwater
The ability to offer easy underwater application is also an obvious feature every underwater epoxy needs to demonstrate. Being easy to apply underwater is achieved through striking the right balance of viscosity, density and tackiness, and results in a product that:
Helps eliminate messy and wasteful stringiness.
Helps displace water to gain strong wet adhesion, even on poorly prepared surfaces.
Enables application of thick films in one coat (which is important as it's rarely viable to use two coats underwater).
Enables application on vertical and overhead surfaces, as well as in demanding splash zone regions.
3. Able to cure underwater
It might be logical to assume that what can be applied underwater will cure/harden underwater. This may be true for the resin component, however if some additives are miscible with water then coating performance, as well as water quality in sensitive environments, may be compromised as they slowly leach out over time. As alluded to already, what's in the film at the beginning should remain in the film during service.
The issue of curing also encompasses the rate at which it does so. Does the underwater epoxy harden within a reasonable timeframe in cold conditions? Does it ever reach full cure and achieve maximum properties such as chemical or corrosion resistance?
4. Able to stick strongly
Like any coating really, an underwater epoxy must display strong adhesion to all common substrates. As an indication, adhesion results on steel in freshwater should exceed 2000psi, while in saltwater anything above 1000psi acceptable. An additional consideration in underwater environments is how the film resists delamination in the presence of corrosion – termed cathodic disbondment. If corrosion develops (usually through physical damage), the "undercutting" effects can force the film off the surface and the better underwater epoxy coatings will be more effective in resisting these forces.
5. Resistant to water and chemicals
An underwater epoxy coating must represent a fully impermeable barrier to water. If water can penetrate the film, corrosion will begin once it reaches the surface and bring into play the destructive "undercutting" forces mentioned above.
The presence of impurities in water also means underwater epoxy coatings may be exposed to chemical attack. Seawater, for example, is full of ions (chloride), impurities (including oils/fuels) and has an overall mild alkalinity. There may also be localised areas of extreme alkalinity to contend with, such as near cathodic protection systems.
6. Repairable
Whether it's a floor or a pier, the ability to patch repair an epoxy coating is invaluable, i.e. it's much easier and cost effective to apply a patch than it is to remove an entire coating, especially underwater. Some coatings won't be able to be patch repaired as they may damage the existing film or contain certain additives (such as silicon-based modifiers) that prevent the patching material from sticking.
7. Environmentally friendly
Almost all water will come in contact with ecosystems of some variety, so it's important that underwater epoxy coatings do not adversely affect the quality of the water they are in contact with. Underwater epoxies should therefore be free of any materials that may endanger the health of these ecosystems. To this end, products with environmental certification and/or potable water approval should be sought.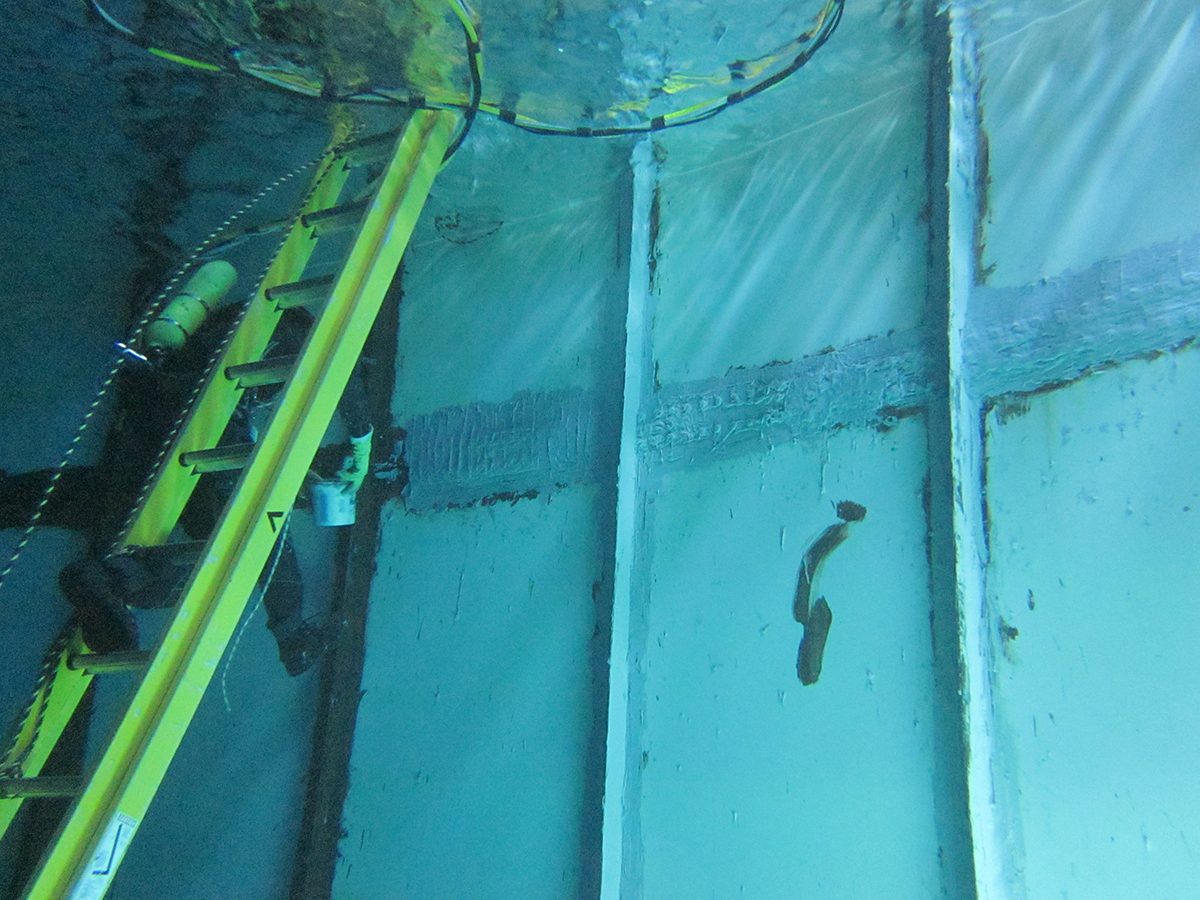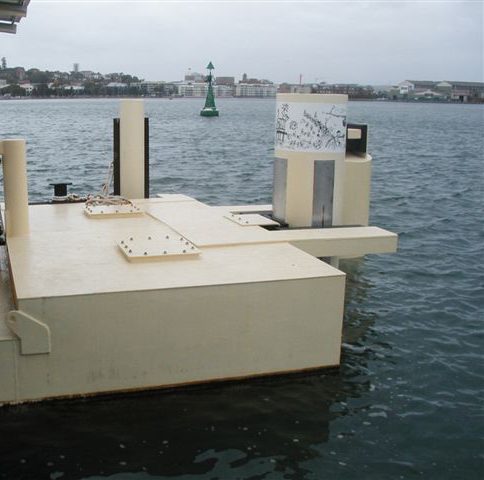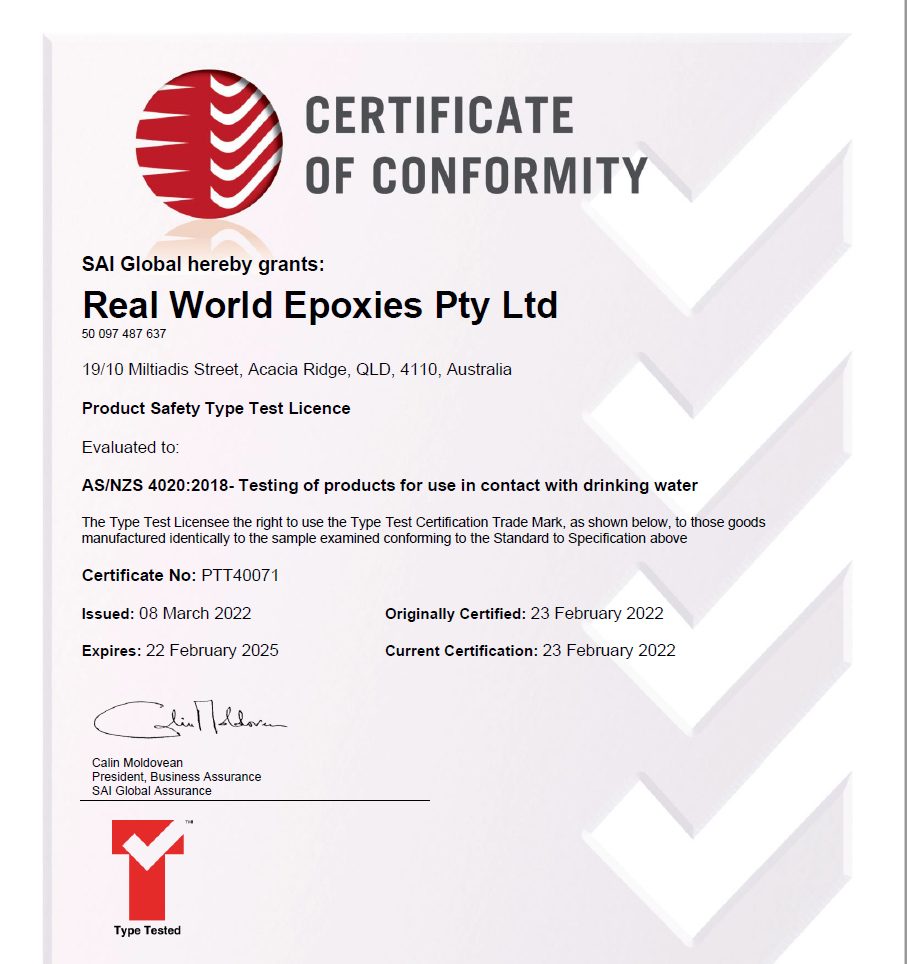 How do you Apply Underwater Epoxies?

Although our range of underwater epoxies has been proven for many years, we still come across customers that are a little doubtful these products actually work!
The way we explain it is, there's really no difference between applying in air or water as far as the coating is concerned. Because the raw materials we use are completely water tolerant (they don't react or mix with water), the products essentially behave as they would when applied above water. The only differences you see is during application, where the heavier, cooler water requires a few subtle adjustments to get the best results.
Below is a brief discussion on how to use our underwater epoxy products for repairing, filling, sealing and sticking in small areas underwater. For larger scale coating applications, please contact us for more information.
Surface preparation for underwater epoxies
While surfaces may be underwater, the objective of surface preparation remains the same: remove barriers to adhesion (marine growth, slime, loose coatings, rust etc.) and establish a clean, sound surface with a mechanical profile. Also, the same rules apply with regards to existing coatings, i.e. strongly bonded coatings in sound condition can be coated over.
When it comes to achieving those goals, often the best and most practical option in small areas such as water tanks is an abrasive paper/pad or wire brush etc. Specialist powered equipment such as hydraulic grinders and needle guns can be used, however they're best suited to certain applications and professional operators.
Once surface preparation has been conducted, application should begin within 30 minutes to avoid re-settling on the surface. If delay is longer than 30 minutes, preparation should be repeated.
You can read a more comprehensive discussion surface preparation on the Underwater Surface Preparation page.

Mixing and applying underwater epoxies
When performing these types of applications, it's best to work with smaller, more manageable volumes. Working underwater requires a slower, more steady approach and therefore it will be very difficult to apply an entire kit (4 Litres) before it reaches the end of its potlife. Mix a maximum of 2 litres on the surface in a separate bucket. If the application is at a depth requiring the services of a diver, they can hang the bucket from their belt and free up both hands for navigation and application.
When applying, use a flexible plastic spatula or gloved hand and work slowly. Allow the underwater epoxy to sit on the surface for a short time before smearing across the surface in a buttering-type motion. The weight of the water can tear off product at the edges if the motion is too vigorous. Slowing down and working methodically will yield a better job with much less wastage. Under some circumstances it will be found that two or three passes over the surface may be required for the product to grab and adhere strongly.
Some other useful suggestions regarding this type of underwater application are:

In cold conditions, the underwater epoxy may display a tendency to roll up on itself rather than smear. It can be useful to pre-heat the Part A and B containers separately in hot water first to deliver a quick and effective reduction in viscosity before mixing them together and applying.


Only mix smaller, manageable amounts and while the product is still warm quickly take underwater and apply. A polyethylene or propylene mixing bowl is a good option to mix in as cured/hardened product can be easily removed afterwards, and the bowl re-used.


A stiff a metal spatula is required to mix due to the high viscosity of underwater epoxy products. Do not use the same tool to remove product from the Part A and Part B containers as this could cause cross-contamination.


If using a brush, it might be easier to apply the product by shortening the bristles with scissors first. This will stiffen the brush and allow it to work the product more effectively.


If sealing cracks at large depths, the static pressure of the water can force the underwater epoxy through the opening. In these situations, it can be helpful to plug the gap first with a "modelling clay" or similar material before applying over the top with the underwater epoxy.


If gluing in an area that can't be inspected afterwards (e.g. under a patch), retain a mixed sample so you can check the underwater epoxy has cured properly, i.e. correct ratios were used and mixed thoroughly.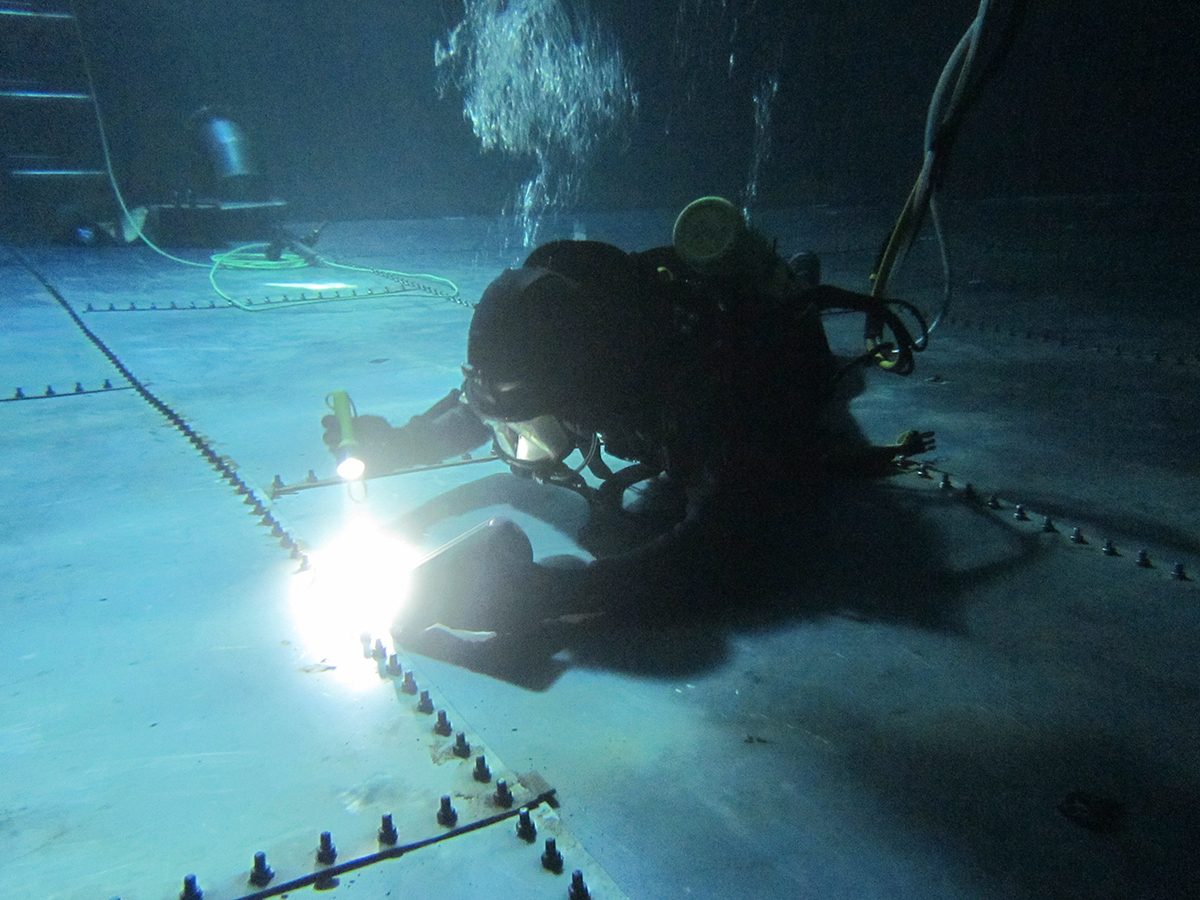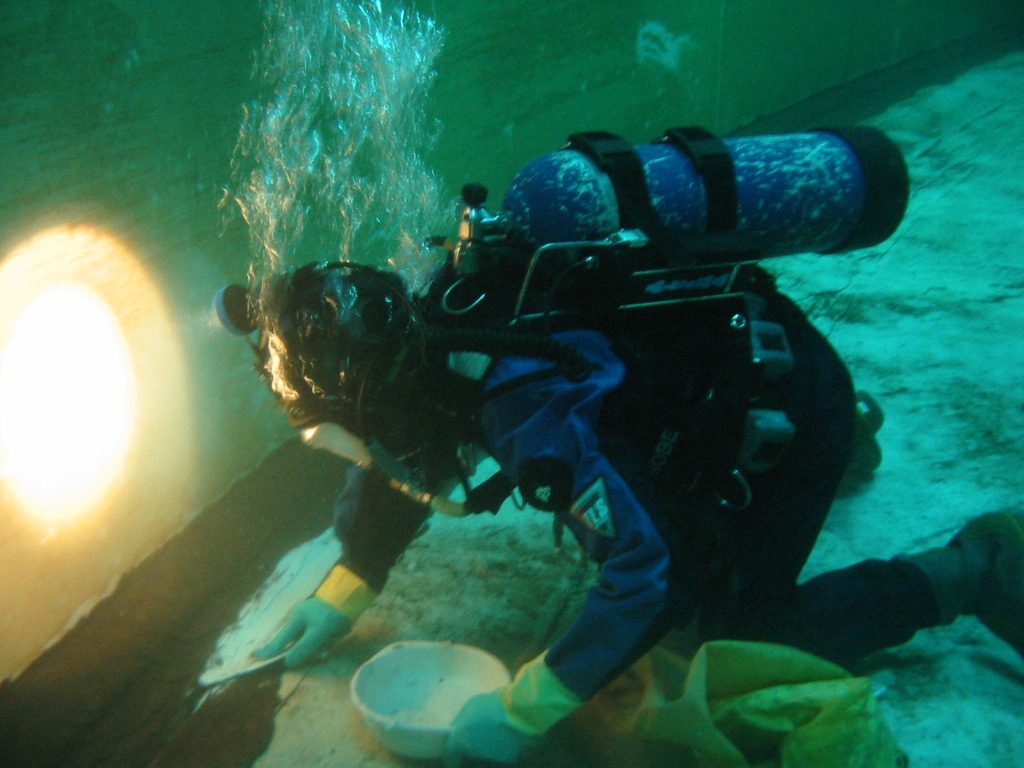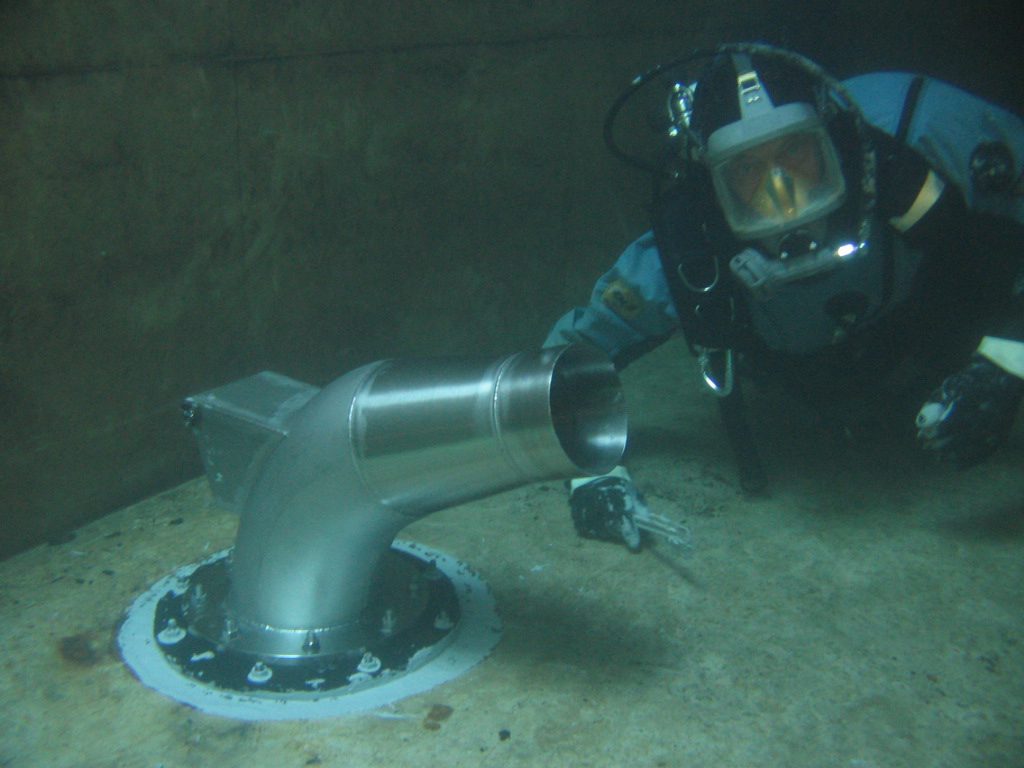 Got an underwater epoxy project you'd like to talk to us about?
Frequently Asked Questions