Home › Products › Underwater › Scubapoxy 1725
Scubapoxy 1725
Underwater-applied Coating & Adhesive

A Kevlar®-reinforced, two-pack epoxy designed as a specialist protective coating and adhesive for underwater, marine and wet-area environments.
Quality materials are used with Kevlar® fibres to create a high-strength, high-performance coating that provides genuine underwater capability and long-term protection.
Scubapoxy 1725 was also formulated in conjunction with commercial divers to be as diver-friendly as possible. The fibre-reinforced, thixotropic nature of the product is not prone to stringing or floating, while the resin-rich, paste-like viscosity gives superior tackiness and adhesion compared to traditional "putty" products.


Uses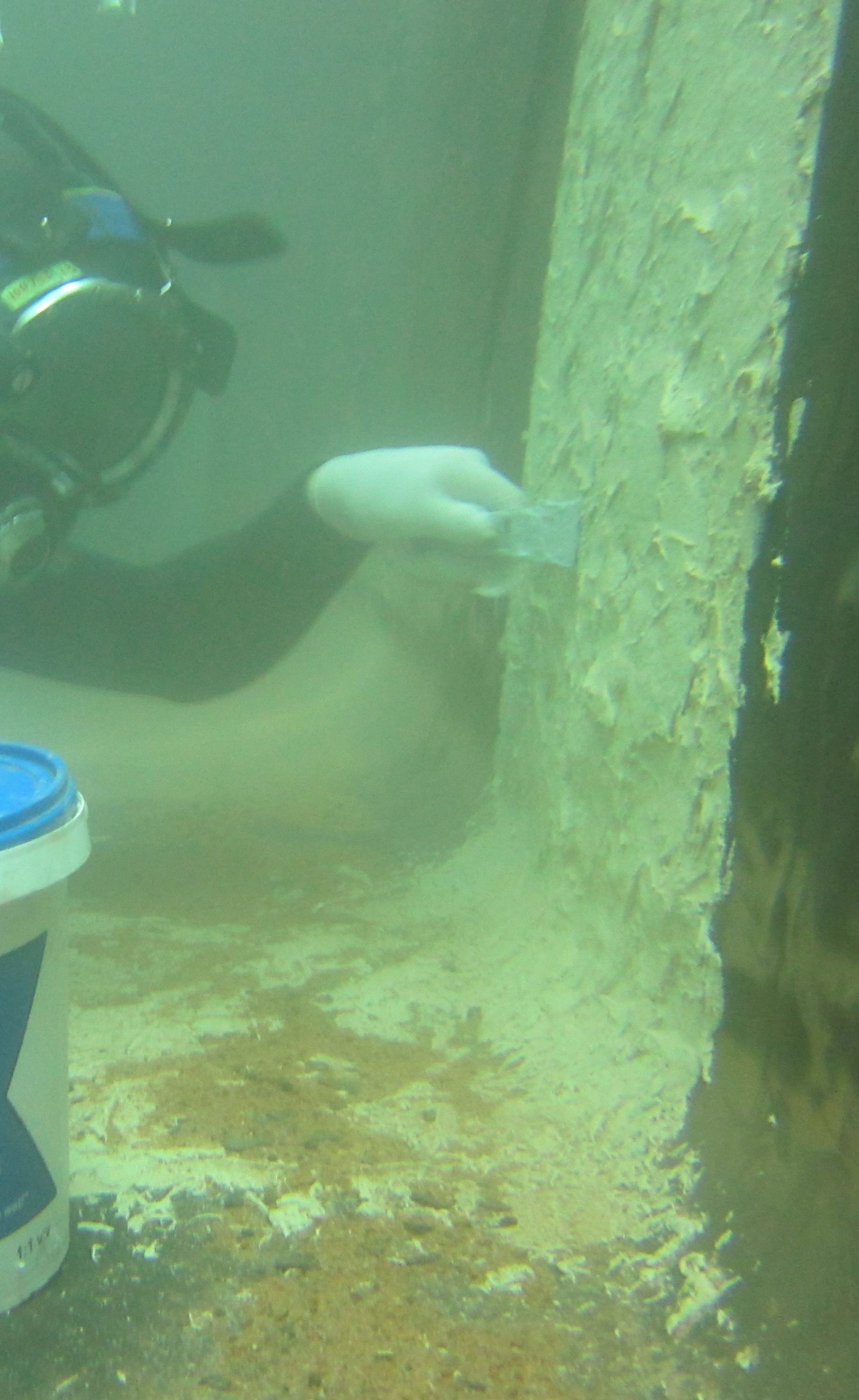 Common uses for Scubapoxy 1725 include:
Tanks, Reservoirs, Pools, Piers, Pontoons, Splashzones, Wet Areas, Wastewater, Oil/Gas Pipelines,
Boats & Vessels, Marine Structures, Hydroelectricity
Product Details
Type: Two-pack epoxy - solvent-free/100% solids.
Colour: Mid-grey
Finish: Gloss (subtle orange peel texture).
Mix Ratio: 1:1 v:v
Pack Size: 4 litres.
Benefits
Proven performance in underwater applications.
Paste-like, diver-friendly formulation.
Easy 1:1 by volume mix.
Potable water approved under AS/NZS 4020:2018.
High-build, gap-filling properties (including vertically).
Use for coating, patching, sealing and attaching.
Reinforced for greater film strength and cohesion.
Excellent chemical resistance, e.g. 70% sulphuric acid.
Excellent adhesion to concrete, steel, fibreglass etc.
Not a Dangerous Good for quicker, easier shipping.
Got an underwater epoxy coating project you'd like to talk to us about?
Properties
Adhesion
ASTM D451/ISO 4624
Concrete - substrate failure in dry and wet
Steel - Wet >2400psi - Dry >2000psi
Hardness
ASTM D-2280 JIS K 5600-5-4:1999
81-86 Shore D.
Potable Water
AS/NZS 4020:2018
Passed all criteria at a min. exposure of 9000mm2 per litre
Chemical Resistance

| | |
| --- | --- |
| 10% Acetic Acid | Xylene |
| 50% Sodium Hydroxide | Toluene |
| Bleach | Hydrocarbons/Fuels/Oils/Skydrol |
| 70% Sulphuric Acid | 10% Lactic Acid |
| Ethanol | Deionized Water |

Staining may occur when exposed to aggressive chemicals. Good housekeeping practices, including dilution and spillage clean up, will minimise chemical damage. For full immersion performance, contact supplier.
Coverage
The actual coverage achieved by Scubapoxy 1725 will depend on the substrate characteristics and condition.
The theoretical yield for a 800-micron film (typical thickness) are: 4 litre kit @ 1.25m2 /L = 5m2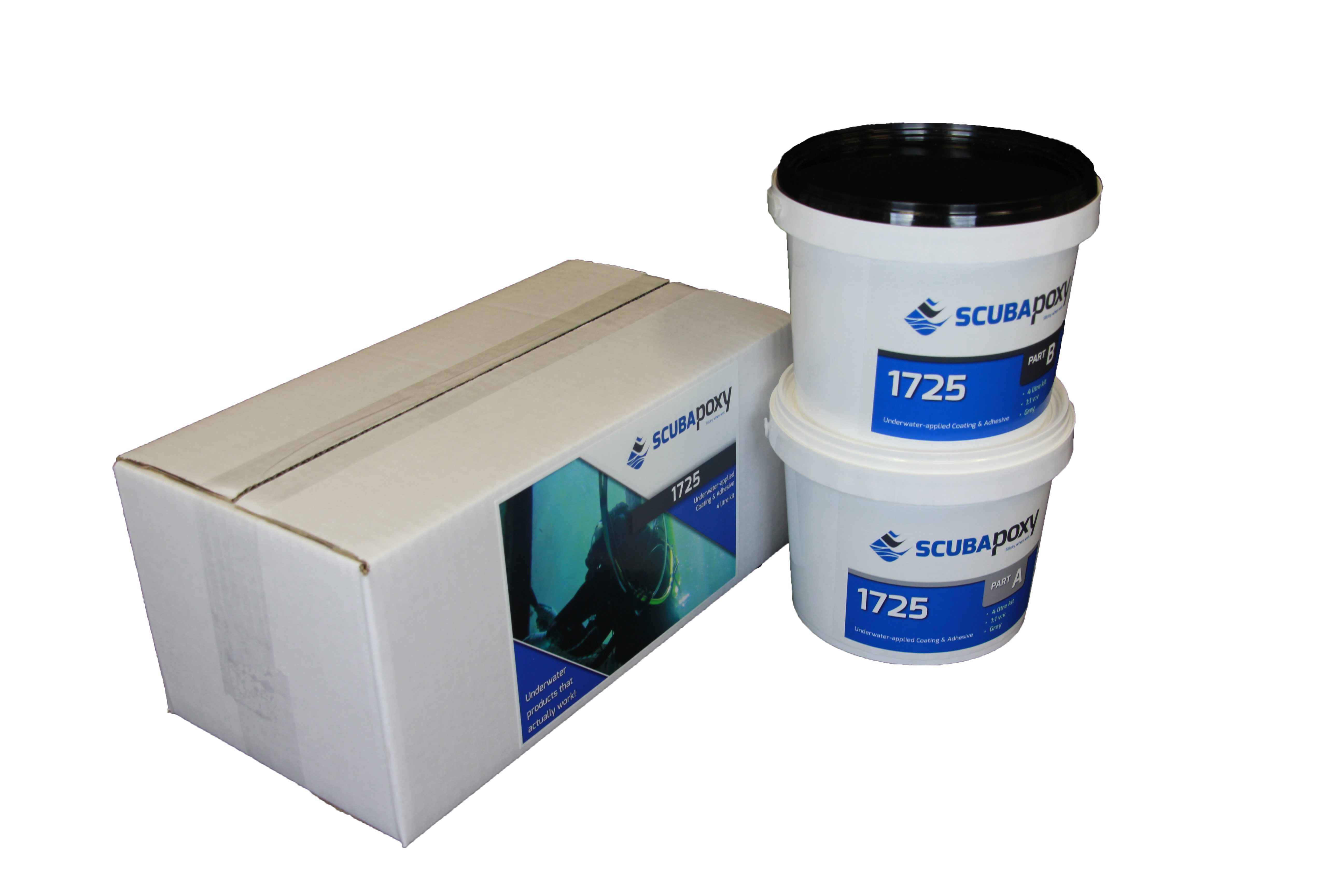 Curing Times
Time (@ 25°C)
Pot Life - 30 minutes
Set (touch) - 6 hours
Set (hard) - 15 hours
Re-coat (min.) - 15 hours
Re-coat (max.) - 36 hours
Full Cure - 7 days

Approximate time frames for full kit @ 25°C. Pot life will shorten for larger mixes. Curing times will decrease with increasing temperature (+10°C will halve curing times, -10°C will double them).
Product Notes
Some settling may be experienced in Part B over long periods of time without use. In such cases, mix separately and thoroughly before use.
Scubapoxy 1725 may be difficult to apply at temperatures below 15oC. In this case, it's helpful to pre-warm the components separately in a heat bath before use. Scubapoxy 1715 can be used as a lower viscosity alternative in cool conditions.
Scubapoxy 1725 should not be applied in temperatures lower than 5oC.
Scubapoxy 1725 has thixotropic properties, which give the wet film good sag resistance on vertical surfaces. Thickness should not exceed 2000 microns/2mm when applied at temperatures greater than 25oC.
Scubapoxy 1725 is compatible with most cathodic protection systems. If possible, test prior to use.
Consistent with all epoxies, Scubapoxy 1725 will tend to discolour upon extended UV exposure. This doesn't detract from coating performance.
Clean up with MEK, acetone or methylated spirits.
Surface Preparation
Concrete:
Sound surfaces should be well cleaned by high-pressure water/abrasive blasting if possible. Small areas can be cleaned by grinder; not practical for large areas.
Metal:
High-pressure water-blasting or abrasive blasting to class 2.4 (AS 1627.4) with a typical profile of 50-70 microns in a jagged pattern. Grinding acceptable for small areas. Can be applied over tight rust. For best results, clean metal surface with a sponge soaked in detergent (sealed in a locked plastic bag if working at depth) immediately before application.
Coated Surfaces:
Can be applied over existing, well-adhered, abraded, clean coatings.
Note:
As a minimum in underwater applications, preparation should remove all loose surface contamination and marine growth around the site using an abrasive paper or pad, wire brush etc.
Application should begin within 30 minutes of preparation to avoid re-settling on the surface. If delay is longer than 30 minutes, repeat preparation.
Mixing
For full safety instructions, consult SDS. Wear protective clothing, goggles and gloves to prevent skin and eye contact.
NOTE: Check packaging for correct components before mixing.
Mix product at a ratio of 1:1 by volume with a drill mixer.
Pour Part B into Part A and mix until a consistent colour is obtained, scraping sides with a flat spatula to ensure all product is taken in. Smaller volumes (less than 1 litre) can be mixed by hand with a stiff spatula or similar instrument.
Application
Brush, Trowel/Spatula, Gloved Hand.
Application thickness - 800-2000 microns (0.5-1.25m2/L).


If applying underwater, let sit for a moment then work/smear slowly to allow the product to displace the water and "wet" the surface.
Storage
Keep containers closed when not in use. Store below 40°C. Do not store in direct sunlight. Shelf life is at least 12 months in original, unopened container. Seek advice from your local council regarding accepted disposal methods.
First Aid
CAUTION: KEEP OUT OF REACH OF CHILDREN. IF ON SKIN: Remove immediately all contaminated clothing. Rinse skin with water. IF IN EYES: Rinse cautiously with water for several minutes. Immediately call a POISON CENTRE (Australia - 13 11 26) or doctor/physician. If skin irritation occurs: Get medical advice/attention.


WARRANTY DISCLAIMER: The technical data given herein has been compiled for your help and guidance and is based upon our experience and knowledge. However as we have no control over the use to which this information is put, no warranty express or implied is intended or given. We assume no responsibility whatsoever for coverage, performance or damages, including injuries resulting from use of this information or of products recommended herein.

Download copy of this technical data sheet (TDS) - Scubapoxy 1725