Home › Non-slip Epoxy Flooring
Non-slip epoxy flooring
Non-slip flooring is a very broad category that can be used to describe any floor applied to make a surface less slippery. Just about every type of floor covering will have non-slip varieties, and resin flooring is certainly no exception.
Before we dive into some of our top non-slip epoxy flooring tips, an important distinction we like to make when discussing non-slip flooring relates to the description of "anti-slip flooring" or "increased slip resistance" as opposed to "non-slip". Unless you can guarantee prevention of slips and falls in every scenario, anti-slip flooring is perhaps the more accurate description of what can be achieved at the end of the day.
We'll stick with non-slip flooring for the purposes of this discussion because it's the more common term, but it's something to keep in mind.

Non-slip epoxy flooring tips - for owners, builders and specifiers
As with any floor, planning is important for non-slip epoxy flooring, and there are a few things owners, builders and specifiers need to consider to make sure they get a floor that performs as expected.
1. Which non-slip flooring tests to use
There are two popular tests for slip resistance. Perhaps the most well-known is the Oily Ramp Method, which uses an inclined surface to gauge sureness of footing and produce an "R" rating – from R9 (light non-slip texture) to R12 or 13 (aggressive non-slip texture). The other is the Wet Pendulum Test, which is the Australian Standard (AS) for testing non-slip finishes and gives a "P" rating – from P0 (light non-slip texture) to P5 (aggressive non-slip texture).
Which non-slip flooring standard should you use?
"R" ratings are very popular, however in most cases they're not the right choice. This is because the tests only relate to two specific slip combinations - motor oil with safety boots, or water with bare feet. For a more common scenario where water is in contact with a variety of footwear, "P" ratings from a wet pendulum test are more suitable. The pendulum test also has the added advantage of being able to be conducted in the field, which means surfaces can be checked after installation to ensure the right level of non-slip is being provided.
2. How to get lasting non-slip epoxy floor coatings
With non-slip floors, especially in commercial projects and industrial projects, the biggest fear most people have is that the non-slip profile will wear smooth. The hardness of the particle used in epoxy non-slip floors is the main factor here.
For non-slip floors exposed to heavy traffic, particles at the high end of the Mohs hardness scale tend to resist wear better and keep their non-slip profile longer. This means particles such as aluminium oxide (pictured) and carborundum with a Mohs hardness of 9 are better choices rather than sand (6-7).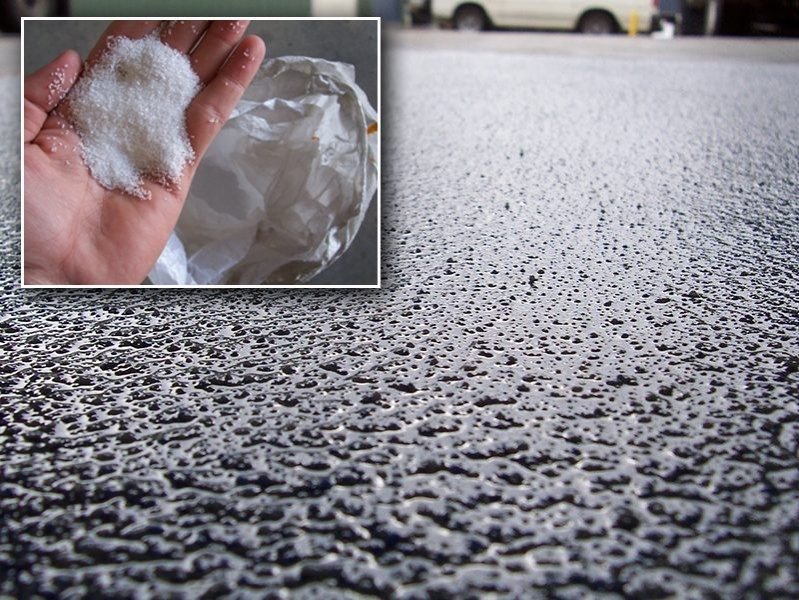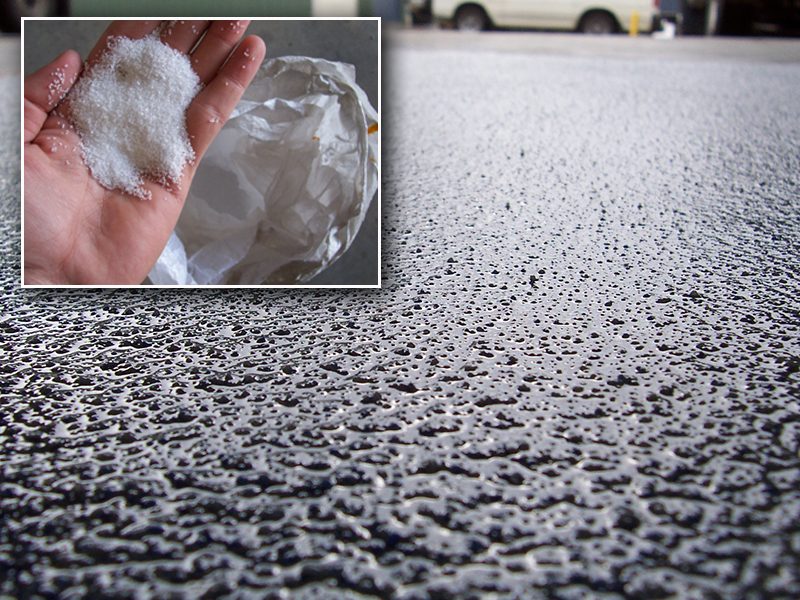 3. How to clean non-slip floors
Floor maintenance is often overlooked, however it's vital considering a non-slip epoxy floor coating clogged with gunk isn't much use to anyone. The challenge comes when more aggressive slip resistance is required. A regular mop can be torn to shreds very quickly by these surfaces, so other cleaning options need to be explored. Coving should also be considered because of the role it plays in keeping non-slip floors clean and hygienic at the floor/wall junction.
Non-slip epoxy flooring tips - for installers
For installers, the main goal is to deliver the non-slip epoxy flooring your client wants. While there are different ways to go about non-slip flooring, below are three keys for how to apply non-slip epoxy floors of the thin-film variety, i.e. thin-film broadcast flooring.
1. Good surface preparation
With thin-film non-slip epoxy floor coatings, the finished floor will tend to reflect the surface underneath. If the concrete is porous, you will get dry areas and patchiness; if you have a divot, there will be a low spot; if there are hills and valleys, the floor will look "wavy". Getting the surface smooth, flat and sealed (if required) will give you a much better result.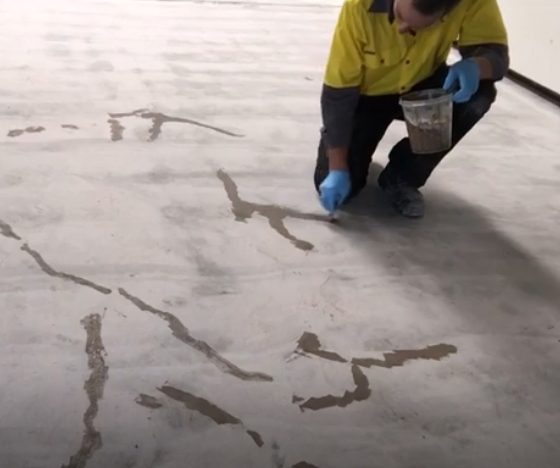 2. Film thickness
You might be able to stretch films out a little further on some jobs, but non-slip epoxy flooring is not one of them. Higher builds are generally required for non-slip epoxy flooring because there has to be enough resin to stick to the substrate and bind all the particles together. The film thickness also has to be even. Too thick and you will end up with a smooth floor; too thin and the non-slip could be too aggressive. A consistent film gives consistent non-slip flooring.
3. Non-slip particle selection and broadcast
A lot of installers use quartz or sand, which has a Mohs hardness of 6-6.5 (diamond is a 10). That's ok for light to medium traffic, but it'll wear quickly with trolley or forklift traffic. For a harder aggregate, choose aluminium oxide or carborundum, which have a Mohs hardness of 9. ​When it comes to broadcasting, grabbing a "knuckle full" – as opposed to a hand full – and lightly tossing into the air for the particles to settle randomly on the film is a good way to get an even coverage. As a rough guide to consumption, fully saturated floors based on 2 x 250-micron coats typically use anywhere between 1-1.5kg per square metre of aggregate, while light sprinkling can be as little as 50-100g per square metre.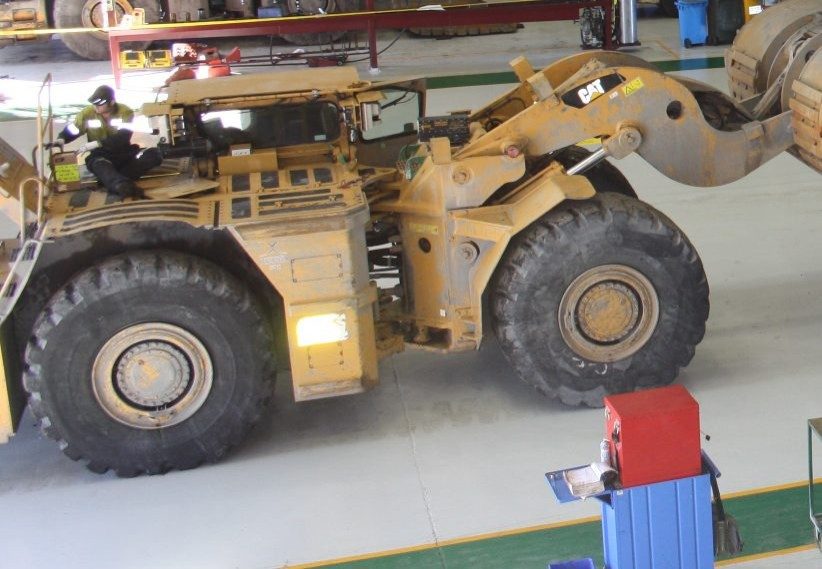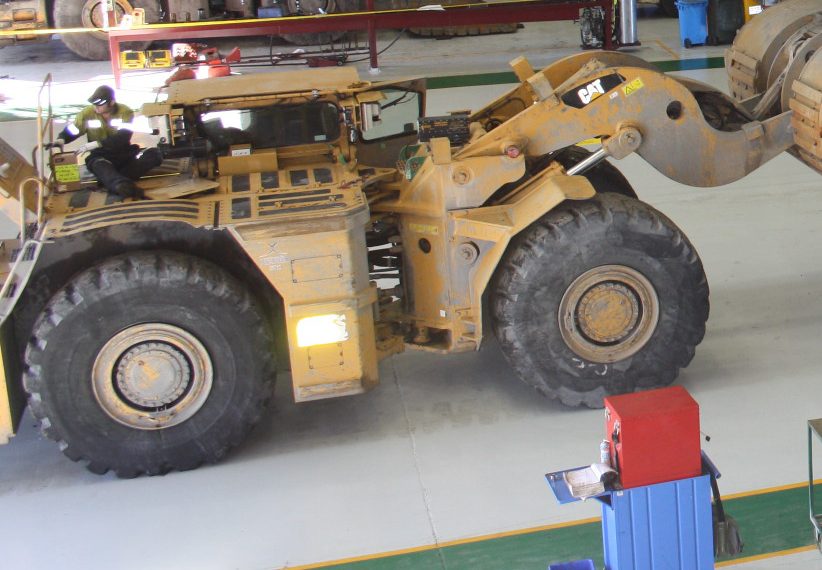 Got a non-slip epoxy flooring project you'd like to talk to us about?
Our non-slip epoxy flooring systems
Read more about our two non-slip epoxy flooring systems on their individual system pages:
Frequently Asked Questions