Home › Polished Concrete Flooring
Can polished concrete flooring be done with clear epoxies?
The traditional form of polished concrete flooring involves 10-12 passes with a diamond grinder to hone the concrete into a smooth, glossy surface. While this type of flooring has been extremely popular in recent times, especially in retail flooring projects, not every slab can be polished successfully and pricing is typically at the higher end.
Because of this, a somewhat simpler and more cost-effective alternative can be done using a clear epoxy resin to flatten the surface instead. This can be a basic "grind and seal", which results in a more rustic warehouse look, or, with the right product and thicker films, it can create the mirror-like finish of a genuine polished concrete floor.
So, which one do you go with? A traditional polished concrete floor or a clear epoxy resin? This page will run you through a few important considerations to help you decide which polished concrete flooring option is best for you.

Polished concrete flooring tips - for owners, builders and specifiers
While traditional polished concrete flooring has become the "go to" option for many
decorative flooring projects
, like any floor there are some limitations you should be aware of:
1. Not all concrete is suitable for polished concrete flooring
A common mistake people make with traditional polished concrete flooring is assuming every concrete slab can be polished to the same standard. In reality, there are a number of reasons a concrete slab may be unsuitable for polishing.
For instance, some will be too soft and won't respond well to the grinding process; others may not be entirely level, with high and low spots that can show through as patchy and inconsistent. The same can be said if the concrete has poor, uneven or just plain ugly aggregate mixed throughout. Also, cracks and previous repairs will be visible, which might seem obvious but is easy to overlook.
Finally, because polished concrete flooring removes a significant amount of concrete in the polishing process, it can be seen as a structural threat in multi-story buildings and therefore not always permitted.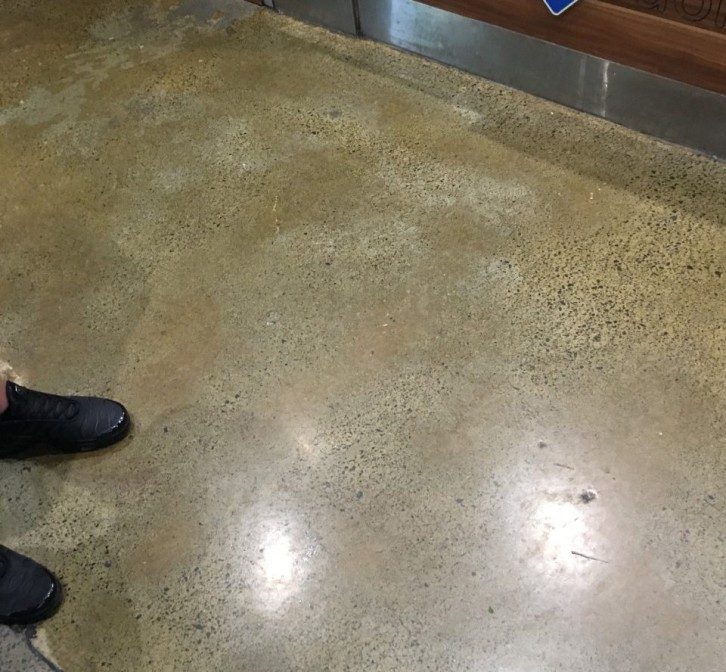 2. You still need to maintain a polished concrete floor
When done properly traditional polished concrete flooring can be extremely resilient, however the popular notions of it being maintenance-free aren't quite correct. The reality is ALL floors need to be maintained properly. Good practices like regular cleaning and inspection, careful movement of heavy items, use of mats at entrances, and suitable traffic demands are always recommended. If a high-gloss finish is to be preserved, extra treatment will generally be required down the track to refresh and rejuvenate.
It's also worth noting that the densifiers used for hardening polished concrete floors typically don't seal like an epoxy floor coating would. For example, spilled red wine left overnight can result in a permanent stain rather than remain a cleanable puddle. Plus, effective maintenance of a floor can sometimes mean repairs and patches of various degrees need to be made. With polished concrete flooring, it can be very difficult to marry up the old and the new in these instances.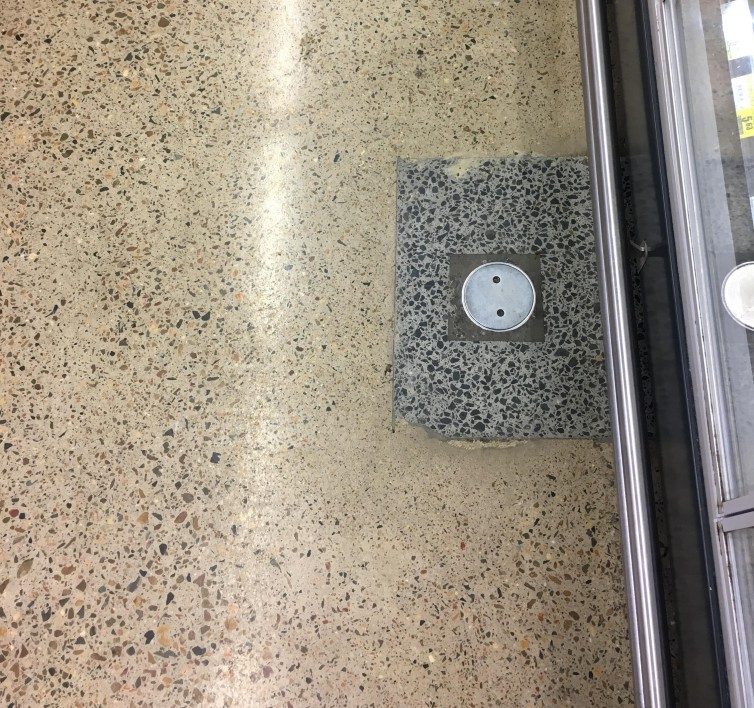 3. You need to weigh up the higher cost
Traditional polished concrete floors will cost on average about twice as much per square metre compared to the polished concrete look achieved with clear epoxies. While cost is obviously an important factor, it's only one of the variables you need to weigh up when determining overall value and choosing which way to go.
As discussed already, with traditional polished concrete flooring it's very hard to determine beforehand whether the slab is suitable to grind, how much concrete will need to be removed and how readily it will take on sheen. On the other hand, if it all goes to plan, it will provide a lower maintenance surface that's more resistant to scratching, scuffing and weathering.
You need to ask yourself - do I go the cheaper, perhaps more controllable resin option and put up with more maintenance, or, do I invest more and hope my concrete slab responds well?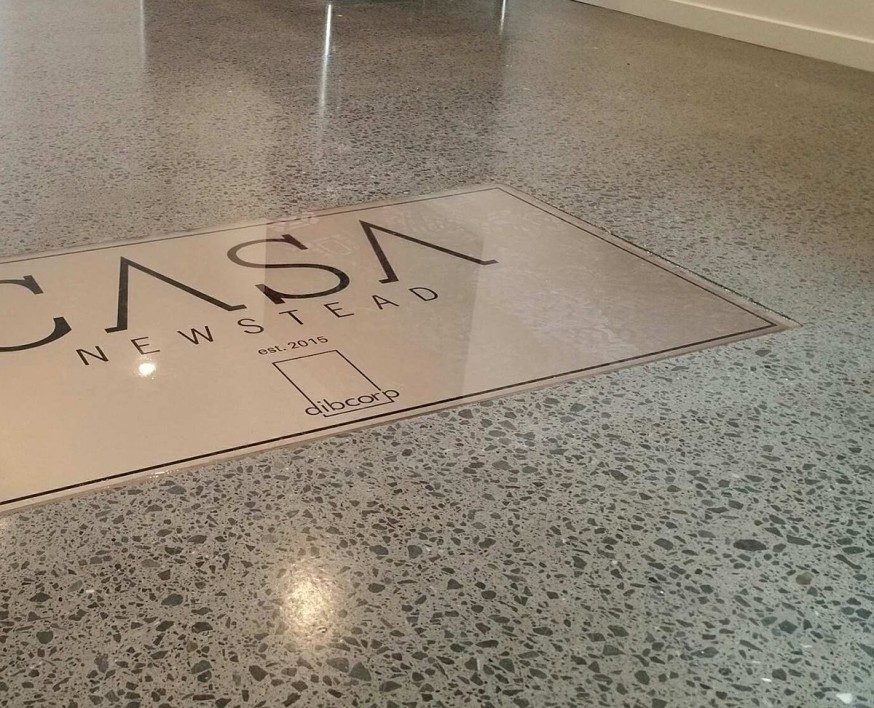 Polished concrete flooring tips - for installers
If you're an installer and you've been asked to do the polished concrete look for a client with decorative epoxies, what do you need to know?
Here are three lessons we've learned from being involved with many projects over the years that aimed to get the same look as polished concrete flooring:
1. Change your preparation goals
First and foremost, the polished concrete look will benefit from a slightly different approach to surface preparation.
The natural inclination for many installers is to whack a heavy grinder on every slab and keep going until it's completely flat. While there's nothing wrong with that thinking for most jobs, ripping the tops of every high spot results in patchy, inconsistent aggregate exposure that rarely looks great in a polished concrete flooring context.
Instead, you want a grind that follows the contours of the slab and only removes the top layer across the entire area.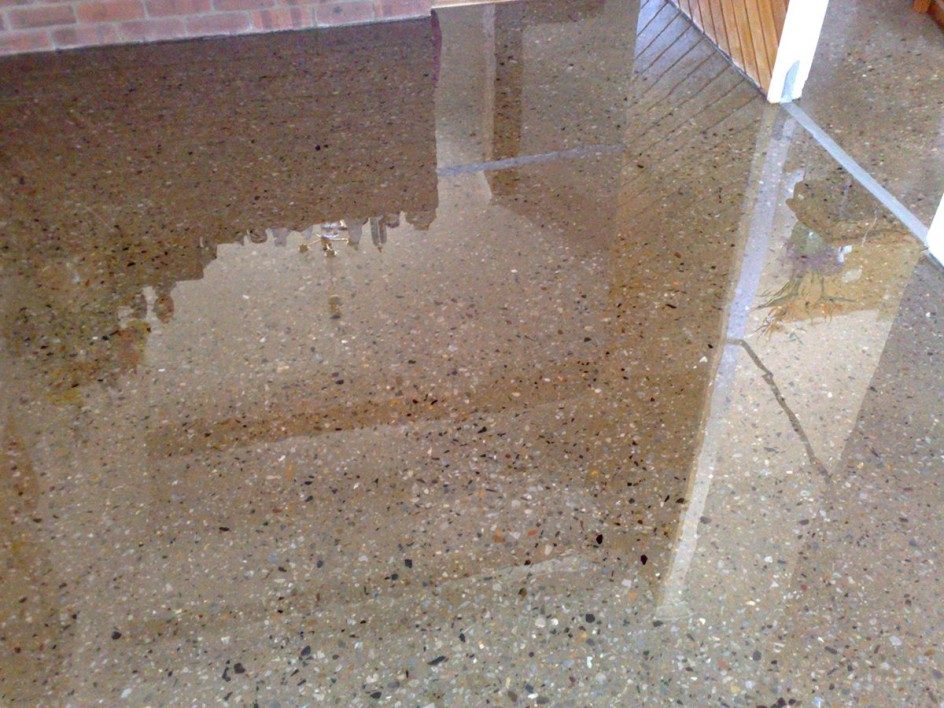 2. Clear epoxies for polished concrete floors aren't easy
When it comes to applying resins for the polished concrete look, many installers would simply pour their clear epoxy resin onto the floor to squeegee out and then start back rolling. The danger with this practice is you can often see a dark patch form under the thicker sections of the poured clear epoxy. You can never fix such a blemish if it shows through the final coat, so working from a roller tray is generally a safer option on the first coat.
This type of staining effect can cause headaches in other situations, especially when doing polished concrete floors in warmer weather. In these instances, the hotter conditions lead to large variations in the viscosity of the clear epoxy, i.e. freshly mixed product is thin and soaks into the slab easier (looks darker), whereas older product that has begun to gel is much thicker and doesn't penetrate as much (looks lighter). The result of this viscosity difference is the appearance of noticeable bands across the floor. Once again there's unfortunately no quick fix and prevention through using smaller mix volumes is the best approach.
Another potential trap when working with clear epoxies are missed spots. Unlike the staining that happens on the first coat, these are more common in latter coats when the finish is darker and the clear epoxy isn't as easy to see. The use of low-level lighting is an effective way of reducing the number of misses, however there's no substitute for working carefully and using a slow, methodical approach to rolling.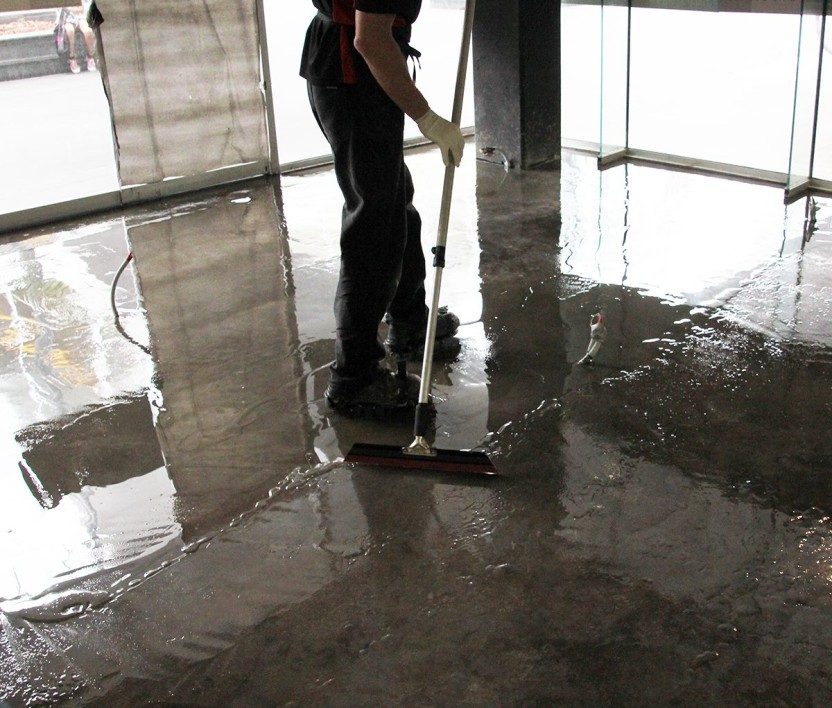 3. Quality decorative epoxies for polished concrete floors
The final point to make on polished concrete flooring with clear epoxies is an important one: you must make sure your clear epoxy is actually capable of delivering the finish you're after. The focus in this sense is how well it levels and the gloss it can achieve. A basic warehouse look is pretty forgiving and many clear epoxies will be suitable for that type of finish, however, there are only a handful of specialist, decorative clear epoxies on the market that can make a good fist of matching a high-end, high-gloss polished concrete floor.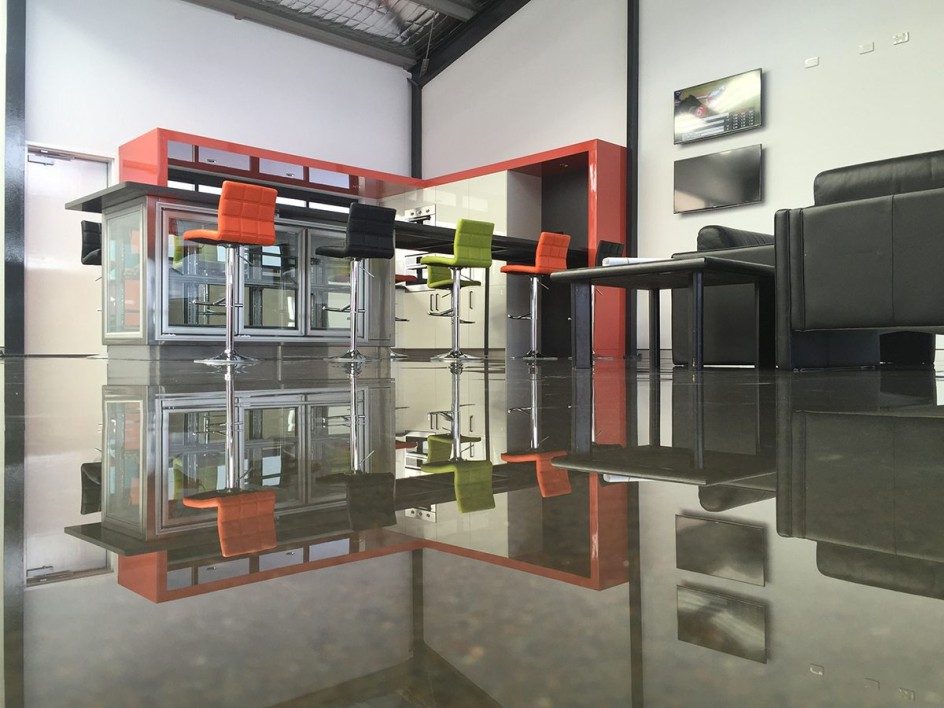 Got a polished concrete flooring project you'd like to talk to us about?
Want to see examples of polished concrete flooring?
If you're looking for inspiration with your flooring project, you can view a selection of our past projects here:
Polished concrete floor example
-
retail outlet
Frequently Asked Questions