Home › Epoxy Flooring Over Tiles
Can epoxy flooring be applied over tiles?
If you're involved in epoxy flooring projects within the residential and retail fields, the chances are you'll come across one particular question sooner or later: "Can epoxy flooring go over tiles?"
It's a very important question to be able to answer and one that will only become more relevant as the epoxy flooring market continues to grow. While tiles have always been a popular flooring choice, the fact is more and more people are falling in love with the seamless, easy-to-clean finish epoxy floors provide and are wondering how the transition is done.
So, can epoxies go over floor tiles? The simple answer is yes, however that doesn't mean it's always the best way forward. Here are a few questions you need to consider before going down this path with your floor.

Epoxy flooring tips for going over tiles
When it comes to applying epoxy flooring over tiles, the three big questions to ask are:
1. Can epoxy flooring stick to tiles?
When going over the top of a tiled floor, the main and most obvious concern is adhesion. Some floor tiles have a glossy finish from the glazing process, which can make them tricky to bond to. If the tiles are glazed, the gloss will need to be removed by grinding to allow the epoxy to grab hold. Vitrified tiles are non-porous and extremely hard all the way through, so grinding alone may not be enough to get a strong bond. With these, a specialist primer is typically needed to make it stick.
A glossy finish can also be a result of a sealer on the tiles, e.g. terracotta tiles often aren't glazed, but a sealer can sometimes be applied to prevent them from looking dirty or showing a spill. If the tile is sealed in this manner, then you'll also need to grind as they often have hydrophobic properties and can be hard to stick to.
In addition to glaze and gloss of the tile itself, pay close attention to the condition of the grout lines. The biggest concern here is contamination. Being a porous material, grout has a habit of soaking up grease and grime that can play havoc with epoxy adhesion. If the tiled floor is in a commercial kitchen or anywhere else exposed to heavy oil contamination, you may find yourself digging up the grout lines or removing everything just to be safe.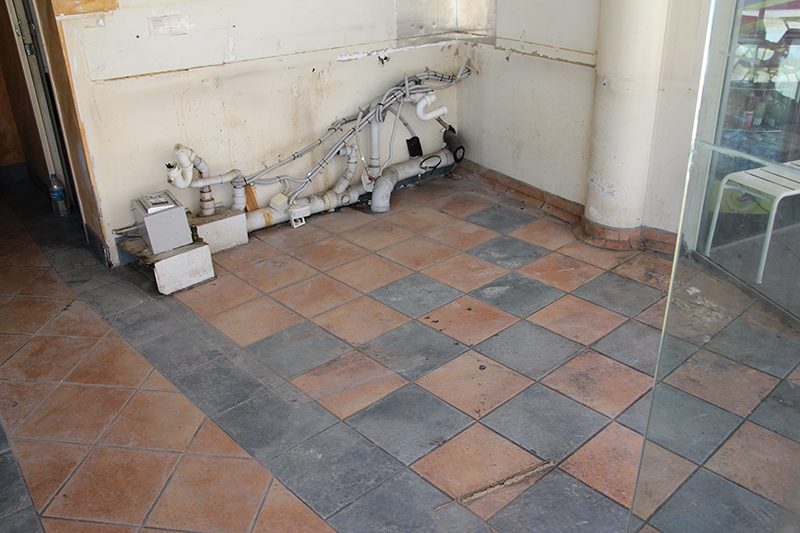 2. Are the tiles stuck down well?
In addition to sticking to the tile itself, the issue of adhesion must be considered with respect to the bond between floor tile and concrete. Tiles can become "drummy" over time and that represents a weak point in the flooring. If more than a few tiles are found to be loose during inspection - or they start to shatter, crack or pop while grinding - it's probably better to remove them all and use the concrete underneath instead. If you end up going over them, keep in mind that you can't control what the tiles may do in the future in this regard.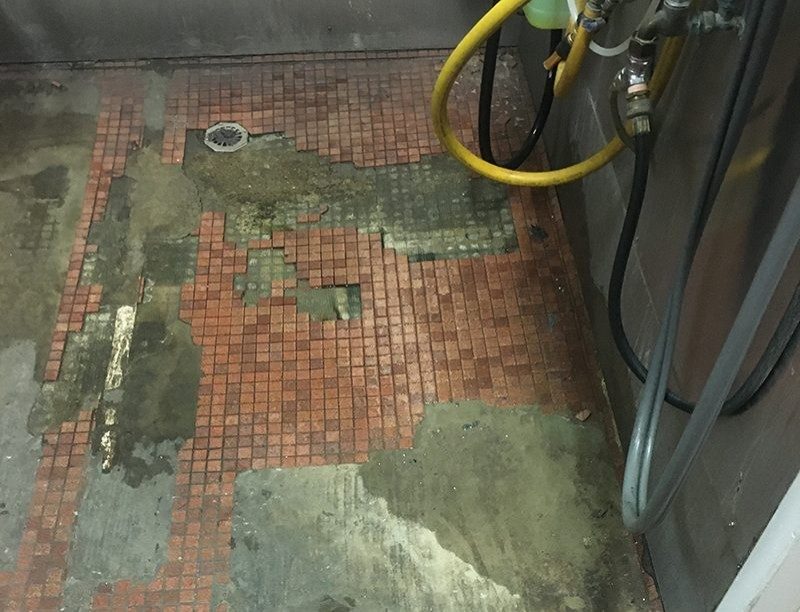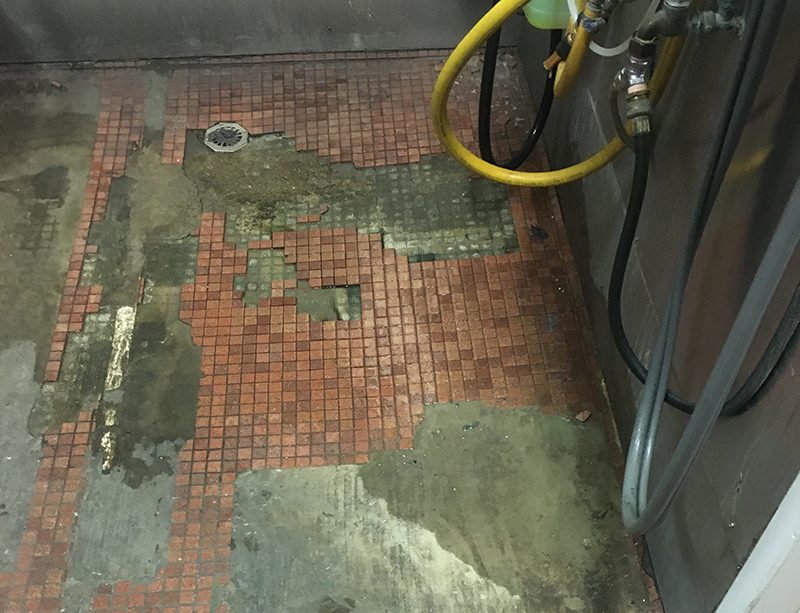 3. Are the tiles flat?
If you're confident the tiled floor is clean and sound and you can stick to them with your epoxy, the next challenge is to get them flat. No one likes protruding edges or visible grout lines in their new epoxy floor! While a flat surface can be achieved mechanically through grinding, it's generally quicker and easier to apply a levelling compound to do the job.
There are a couple of things to say about this task. Firstly, you may need to apply up to 5mm to cover grout lines fully, which can add significant cost to the project and cause problems elsewhere with regards to heights around fixtures etc. Secondly, not all levelling compounds are the same. While they may produce a flat surface, different products can interfere with the flooring system on top in different ways. For instance, floor levellers heavily diluted with water can form a very porous surface that could lead to bubbles and variations in gloss, while some epoxy floor levellers can expand and contract at different rates to the tiled floor, which can lead to grout lines becoming visible once again (so-called "ghosting").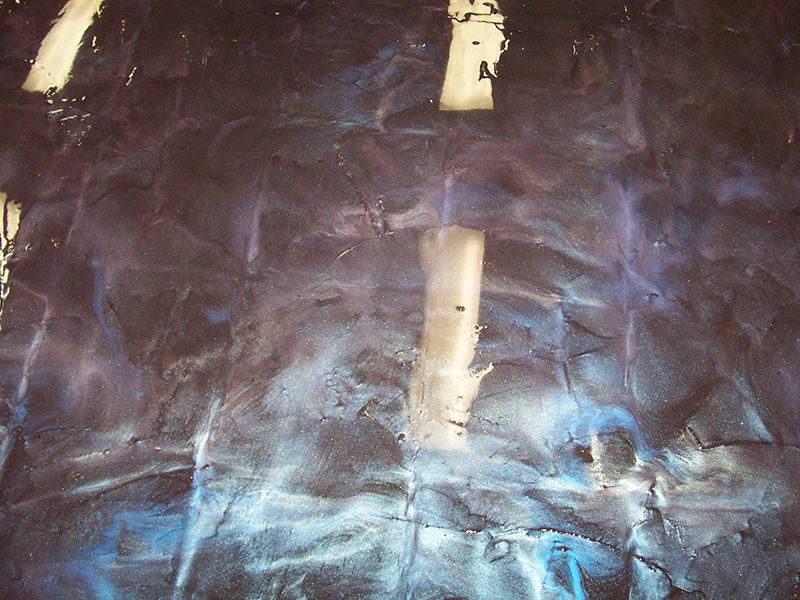 Epoxy flooring tips for removing tiles
If the answers to any of the questions above are no, in most cases the best option will be to remove the tiled surface and get back to clean, sound concrete. Here are some things you need to keep in mind with this process:
1. Floor heights don't always match up
What a lot of floor owners don't realise when they get tiles is the combination of leveller underneath and thickness of the actual tile itself can easily add over 15mm of height to floor. If the new floor doesn't take up the same space, then you're left with large, unsightly gaps beneath skirting boards and other fixtures. An epoxy floor will only add around 1mm to the height of your slab when installed and won't fill the space left by tiles on its own.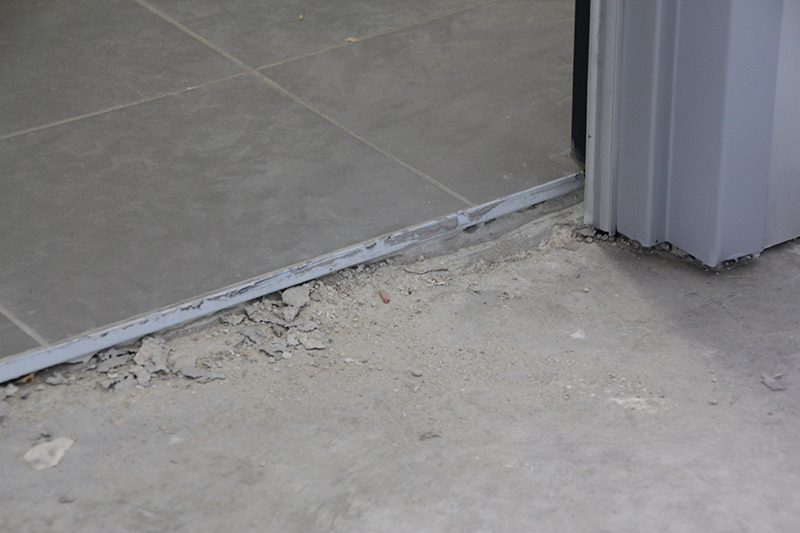 2. Removal can be time consuming and damaging
The actual lifting of the floor tiles is done relatively easily in most cases with a jackhammer, but sometimes what's underneath can present another set of challenges. The combination of a thick layer of floor leveller and glue holding the tiles down can be very stubborn and time consuming to remove, and the subfloor can sustain a fair bit of damage in the process. This often means extensive patching or levelling could be required to repair divots and chips before an epoxy floor goes down.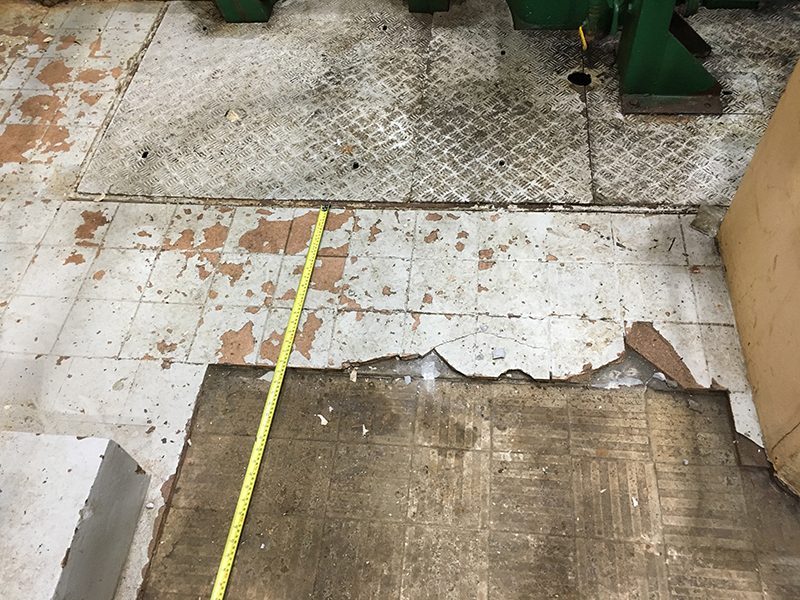 3. The cost of removal
The cost to remove an existing tiled floor will depend on factors such as the size and shape of your floor but can typically be done in a cost-effective manner. Perhaps the biggest consideration with regards to budget, however, relates to the decision you make after removal, i.e. do you re-build the floor first and get back to the height of the tiles, or, do you stick with the original height of your concrete slab and adjust the trimmings later? While many floor owners don't particularly like the idea of fiddling around with the heights of trimmings etc, re-building a floor to such thicknesses with levellers can add significant cost on top of the removal costs.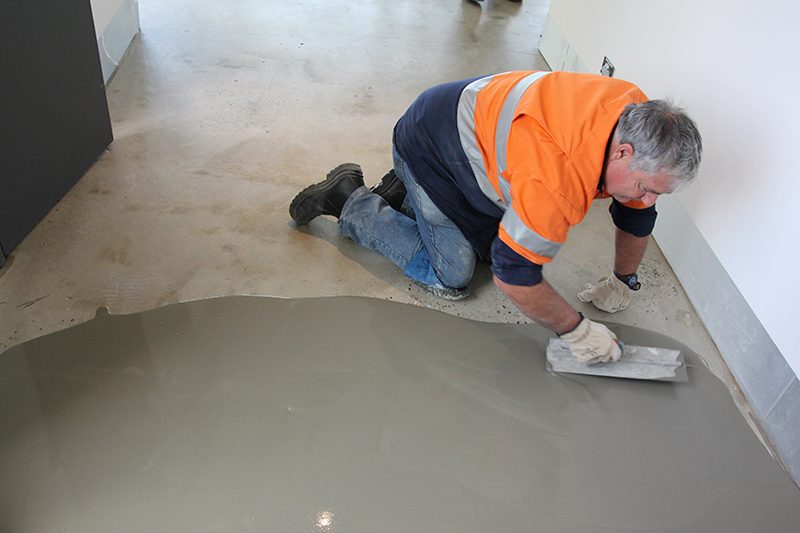 Got an epoxy flooring project you'd like to talk to us about?
Frequently Asked Questions